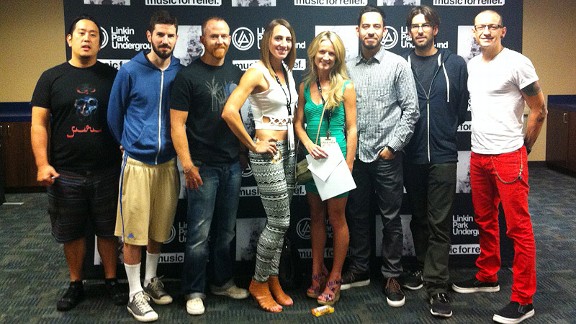 ESPN postou uma entrevista com Mike Shinoda, enquanto o foco principal da entrevista foi sobre os Olimpianos E.U. que Linkin Park reuniu-se neste passado Honda Civic Tour, Mike também fala sobre como se conectar com os fãs através das redes sociais e dá a verdadeira razão por que juntou se ao Twitter e, em seguida, ele fala sobre o sucesso de Living Things e Music for Relief. Leia a matéria em inglês abaixo:
Matéria em inglês
Courtesy of Linkin ParkOlympic runner Geena Gall, fourth from left, meets with the members of Linkin Park in Detroit.
Mike Shinoda of Linkin Park loves the unfiltered aspect of social media.
No wonder the rapper and principal songwriter for the California rock band is on Facebook,Twitter, Tumblr, Instagram, has his own website, his band's website and a host of other forms.
And Shinoda feels, because of social media, he made a stronger connection with the Summer Olympics in London and grew to know the athletes better. That's why he and the band invited several athletes to the fall tour.
"This Olympics were so different because of Twitter. You have the ability to get inside the minds of the actual athletes and get a sense of their personality," said Shinoda, whose band is heading to Buenas Aries this week for the next leg of a world tour. "I was really struck by how you get a better understanding of who they really are in social media and not in a TV interview."
Playbook had a few minutes with Shinoda to talk about social media, the tour and what's ahead for Linkin Park.

What do you mean when you say social media offers better access to athletes?
"In an interview, the athletes are in work mode. They know the cameras are on them. Their mom is watching. They have to edit themselves. But when it comes to social media, they don't edit themselves. I felt with social media and live TV coverage, you got a nice cross section of what was going on with those people."
So that's why you wanted to invite them to your shows?
"I was watching gymnast Gabby Douglas, and they were doing a little TV piece on her upbringing. I thought she was an interesting person. I thought it would be great to meet them. It occurred to me that some of these athletes might be Linkin Park fans. I wanted to extend a gift or friendly gesture to congratulate them for representing us. They worked so hard to get where they are at. It has been definitely a lot of fun to meet them."
You love connecting with your fans, and you've been doing it for a long time. It's like you're on the same level as them.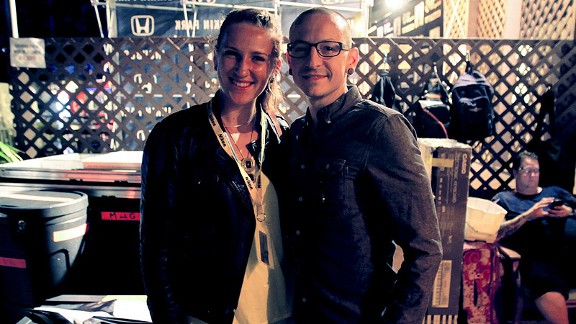 Courtesy of Linkin ParkChester Bennington of Linkin Park meets with Belarus Olympic tennis player Victoria Azarenka.
"We've all got different modes of communication that we're comfortable with. I think some people who are less familiar with the band don't realize how deep the culture runs with us. We're not just a band and people who listen to the band. It's a culture. It is very fluid and seamless. When it comes to new technology or a new mode of communication or even a new app, the band and our fans try it. We talk about it and get as much opinions as we can. We didn't join Twitter initially because it started out all about pop culture and what people were eating and what they were doing. That's not what our community is about. We waited until Twitter changed because we have a deeper connection with our fans."
How do you find the time to do it?
"It shouldn't be a chore. We don't even try. It's part of our life. I don't approach Twitter any differently than one of the fans would. When you get a down moment, you sometimes check and you sometimes read and you sometimes post. That's what works for me. The breakdown of our band is this: two of us (Mike Shinoda and Dave Farrell) post regularly. Two of us (Chester Bennington and Joe Hahn) seldom post. And two (Rob Bourdon and Brad Delson) don't even have real accounts. That just works for us."
You're getting ready to hit the next leg of the world tour. This CD "Living Things" is doing great numbers spawning several hits. So it appears things are going well.
"The impetus for our happiness is finally finishing a record we're proud of. It's more about being happy with the music we've written and recorded. We wouldn't have put it out unless we felt happy about it. We know very well how much work goes into supporting a record. We know not to step out of a studio until we're done with something we love."
And your band has a strong social conscious. Where does that come from?
"It's really which came first the chicken or the egg. We're not out there telling everybody to go do stuff. They aren't just following our lead. It's today's young culture protecting the planet and the environment and being respectful of one another in a worldwide scope."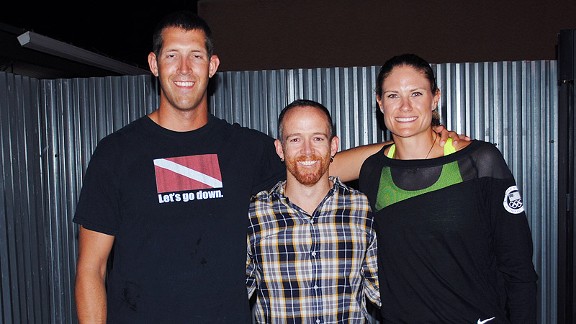 Courtesy of Linkin ParkDave Farrell, center, of Linkin Park hangs with Olympic rowing champ Susan Francia and a friend.
What projects is the band involved in?
Right now, we're focusing on Music for Relief, which was founded in the mid-2000s. Originally, it was an organization established to provide relief to victims of natural disasters. We now realize that natural disasters are arguably being caused by changes in climate and environmental issues. We decided to get active on the preventative end. Another is Power the World, looking at helping the world have access to sustainable energy. These are all the issues that the Linkin Park fanbase can get behind."

That's a lot to take on and you still are planning to make more music.
"We don't have a start or stop date. Our current focus is to support the record and write more music while we're out there in between tours."
If you weren't in music, would you be working in social media or social causes?
"I would have loved to do something in those fields. I'm not sure how my skill set would match up. My skill set is in graphic design and illustration. But right now my priority is music."
---
Fonte:
espn.go.com
Veja Também: